What savvy treasure does King Farouk of Egypt, Academy Award-winning actress Nicole Kidman and NBA all-time leading scorer Kareem Abdul-Jabbar have in common?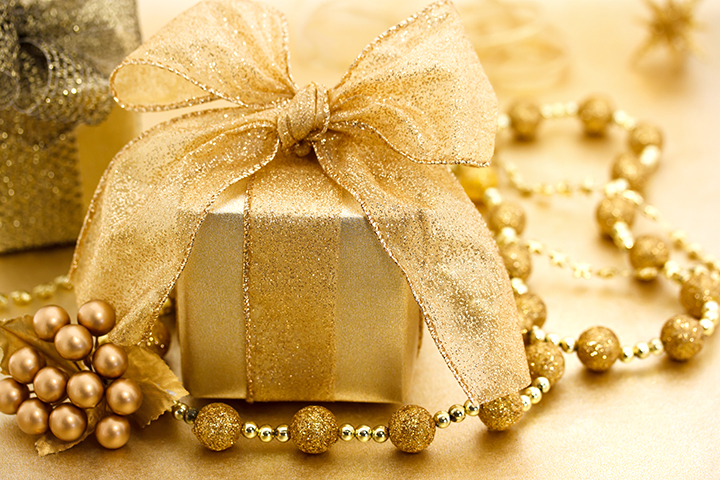 The COVID-19 pandemic has spurred fresh demand for tangible—and highly giftable—assets like art, antiques and gold bullion, but rare coins are garnering fresh attention all their own. Not only are they an alternative investment option fostering wealth preservation and capital growth, but rare U.S. coins are also meaningful, sentiment-laden Americana-minded gifts apropos for the winter holidays and honoring other significant occasions like weddings, anniversaries, birthdays, graduation, promotions, retirement, and Valentine's Day, among others. There are actually numerous reasons why gifting coin collectibles is a savvy choice inevitably revered by recipients. Beyond the intrinsic historical significance and pedigree of rare coin collectibles artifacts, they're also tangible investments that help diversify a portfolio and mitigate risk.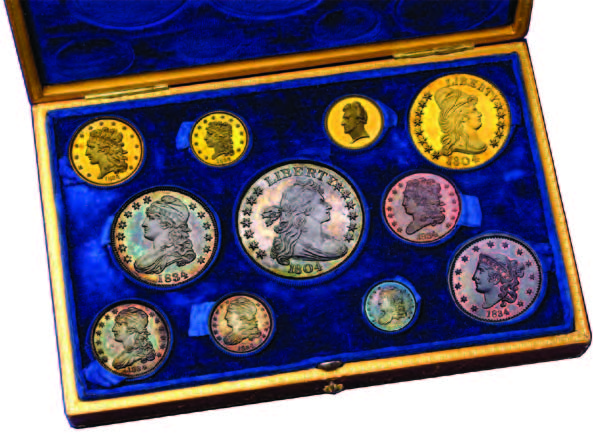 The sustained and even escalated demand for United States rare coin collectibles—including those being procured and proffered as gifts for another—is no surprise, as they are historical artifacts that have survived the test of time. Recipients become captivated by why and how they were made, the intrinsic beauty of each and the history and lineage behind—and oft unique to—every piece. A few prominent coin coin collectibles and aficionados from the past few hundred years are known or said to include heads of state such as John Quincy Adams and King Farouk of Egypt. Even celebrities and star pro sports athletes known to dabble in coin collectibles —the so-called "Hobby of Kings"—include Academy Award-winning actress Nicole Kidman, Emmy-winning actor John Larroquette, actor James Earl Jones, NBA all-time leading scorer Kareem Abdul-Jabbar and NHL Hall of Famer Wayne Gretzky.
Amid the pride and privilege of owning these elusive museum-quality treasures, below, rare coin collecting and investing authority Michael Contursi spotlights an assortment of rare U.S. coins on the market—each representing a smart and sophisticated gift idea that keeps on giving: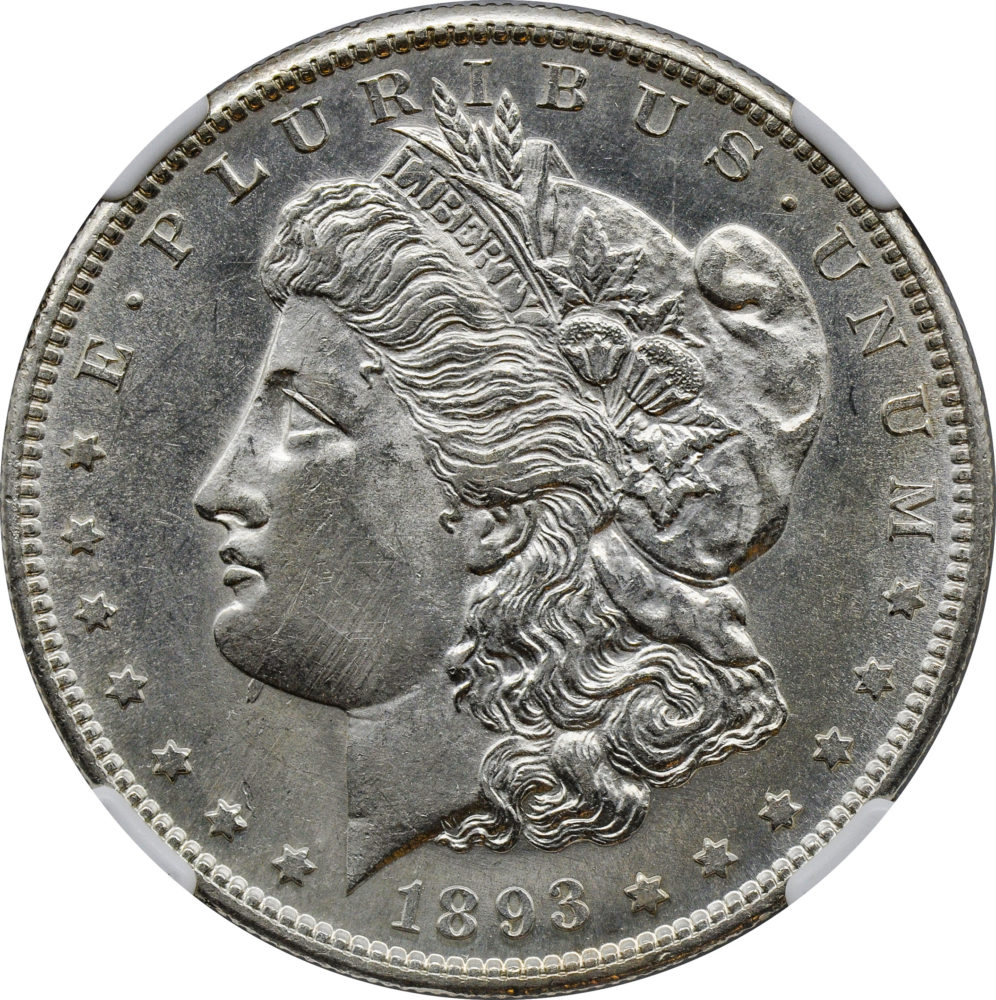 1893-S Morgan $1 – $319,500
Certified by NGC as Mint State 63, this stellar piece is the King of the Morgan Dollar Series. The financial Panic of 1893 caused a drastic reduction in the production of silver dollars, making the 1893-S Morgan dollar one of the rarest and most sought after coins in the series.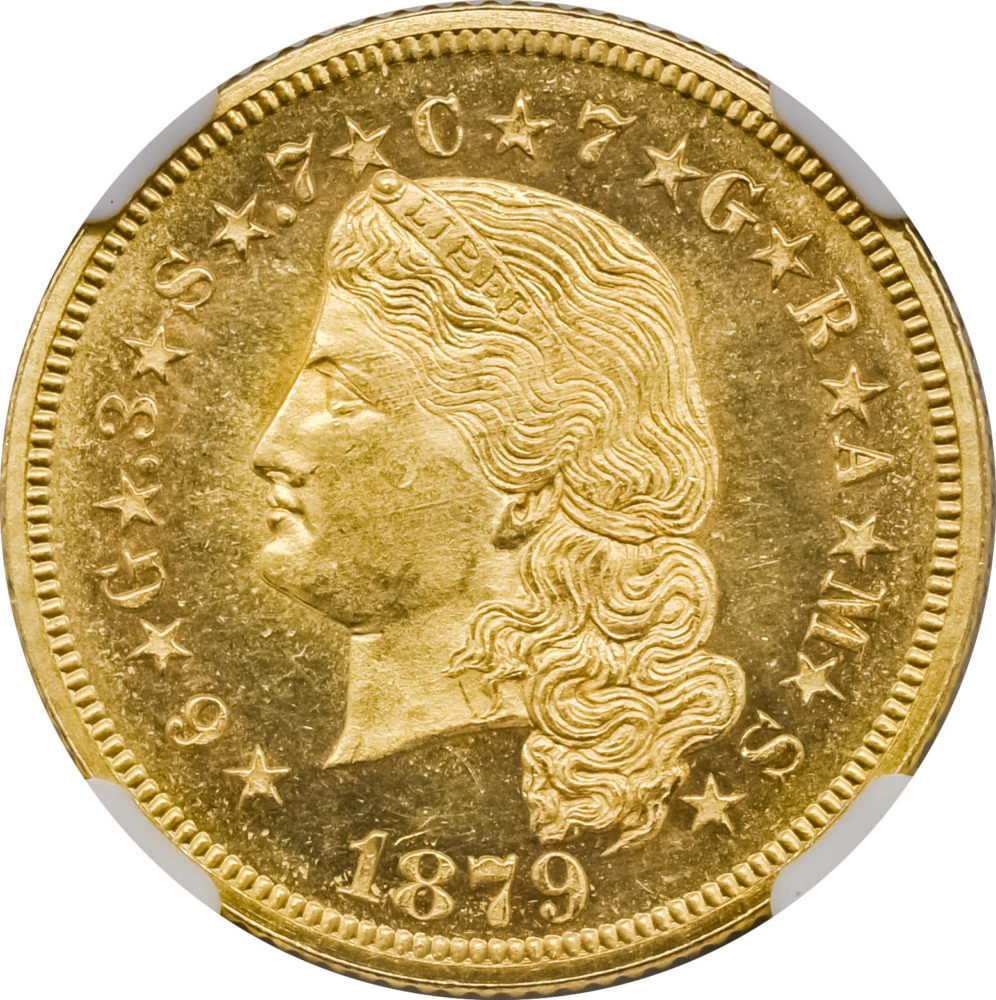 1879 Flowing Hair $4 Stella – $219,500
Certified by NGC as Proof 65, there were just 425 coins struck of this $4 Stella that was only produced in 1879 and 1880. These coins were handed out to Congress as a petition to make a $4 denomination coin hoped to make commerce easier through Europe.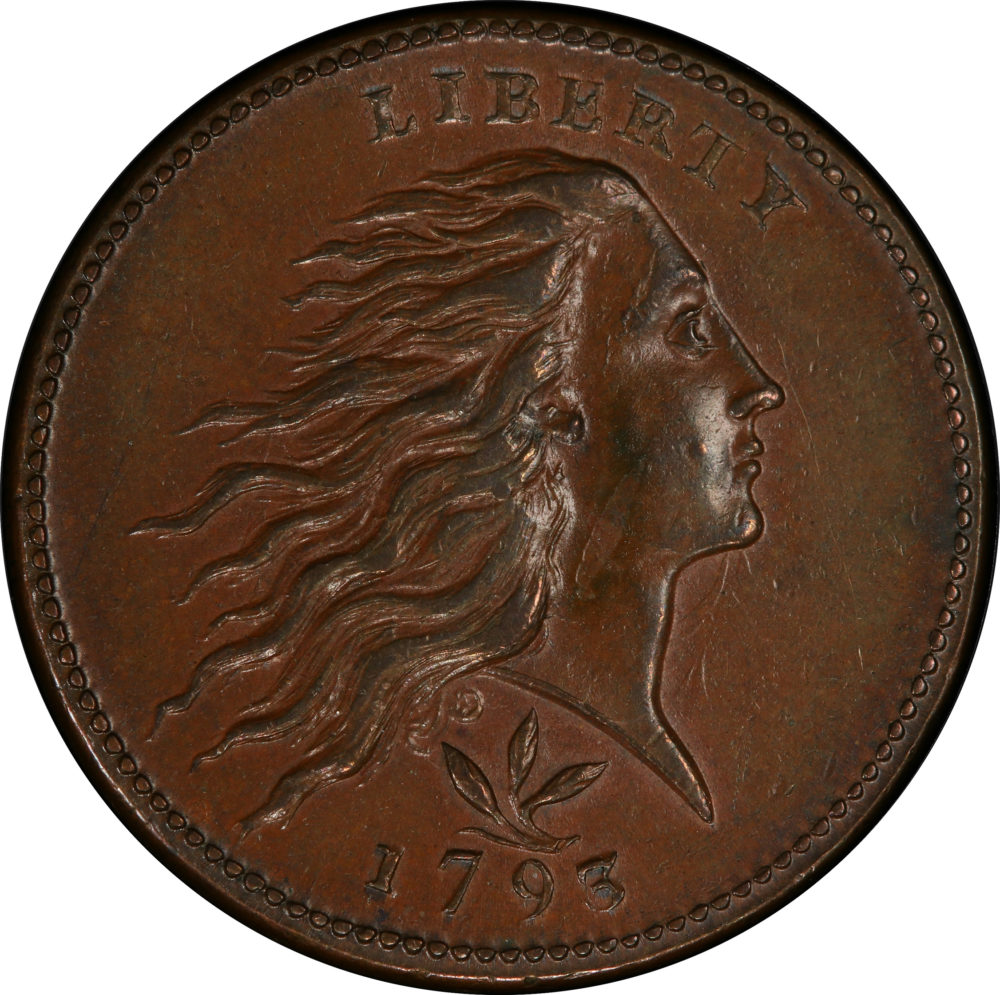 1793 Wreath 1 Cent – $179,500
Certified by PCGS as Mint State 64 +, this Vines and Bars example with gem chocolate brown surfaces is among the first coins struck for circulation in the United States of America. After the Coinage Act of 1792 were large cents made in 1793 with a Wreath, Chain, and Liberty design.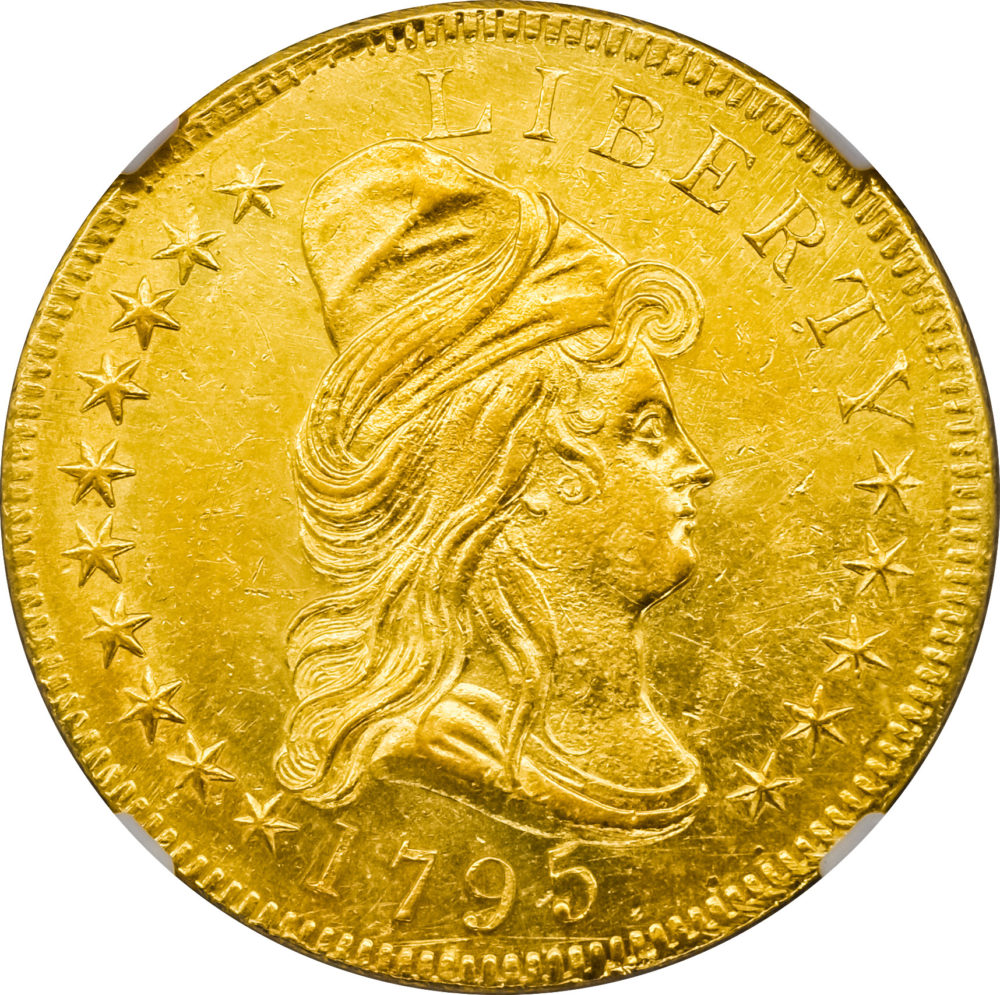 1795 Draped Bust $10 – $119,500
Certified by NGC as Mint State 61, this is a very flashy 13-leaves variety specimen. 1795 is the first year the United States of America produced gold coins. This is a beautifully preserved, uncirculated example that has survived for over 225 years.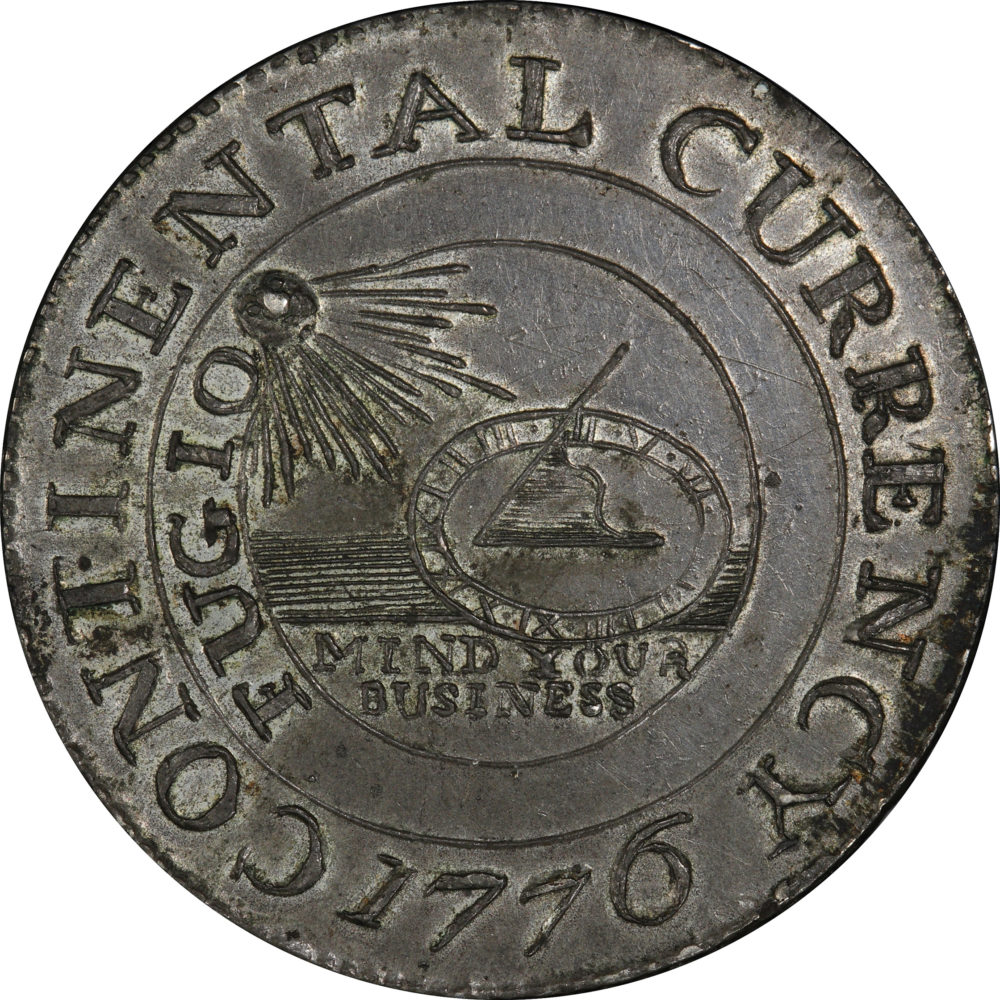 1776 Continental Dollar – $115,000
Certified by PCGS as Mint State 62+, this double R variety coin is dated 1776—the same year the Declaration of Independence was signed. Its design features the 13 original colonies linked together with the motto "We are One."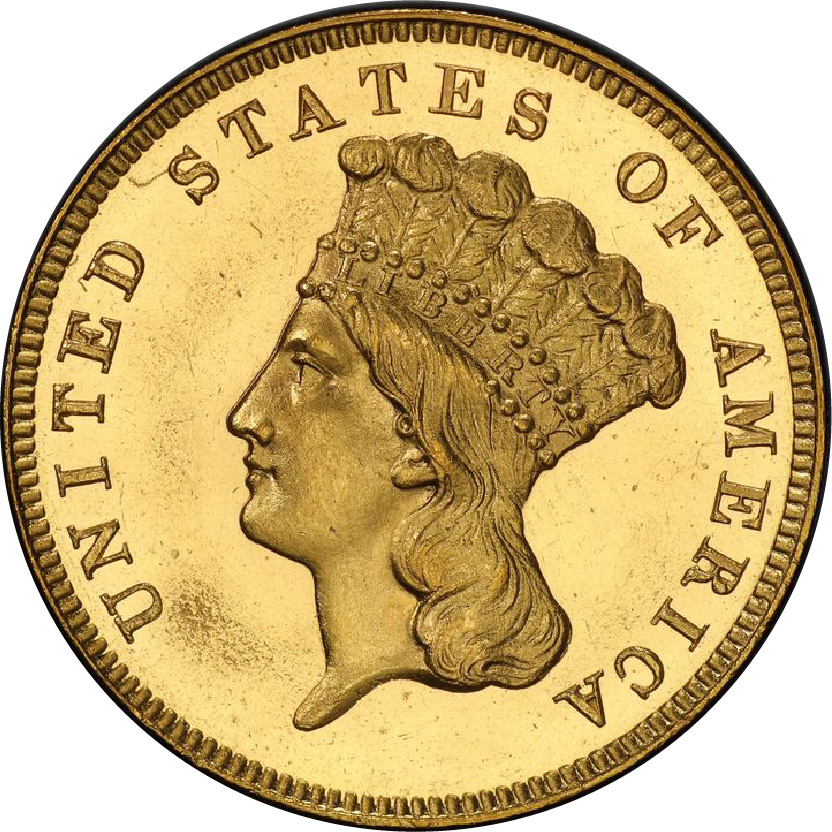 1865 Indian Princess $3 – $92,500
Certified by PCGS as Proof 65 Cameo, with only 25 of these precious coins struck. Here a gorgeous proof cameo surfaces on this magnificent specimen that was made during the Civil War.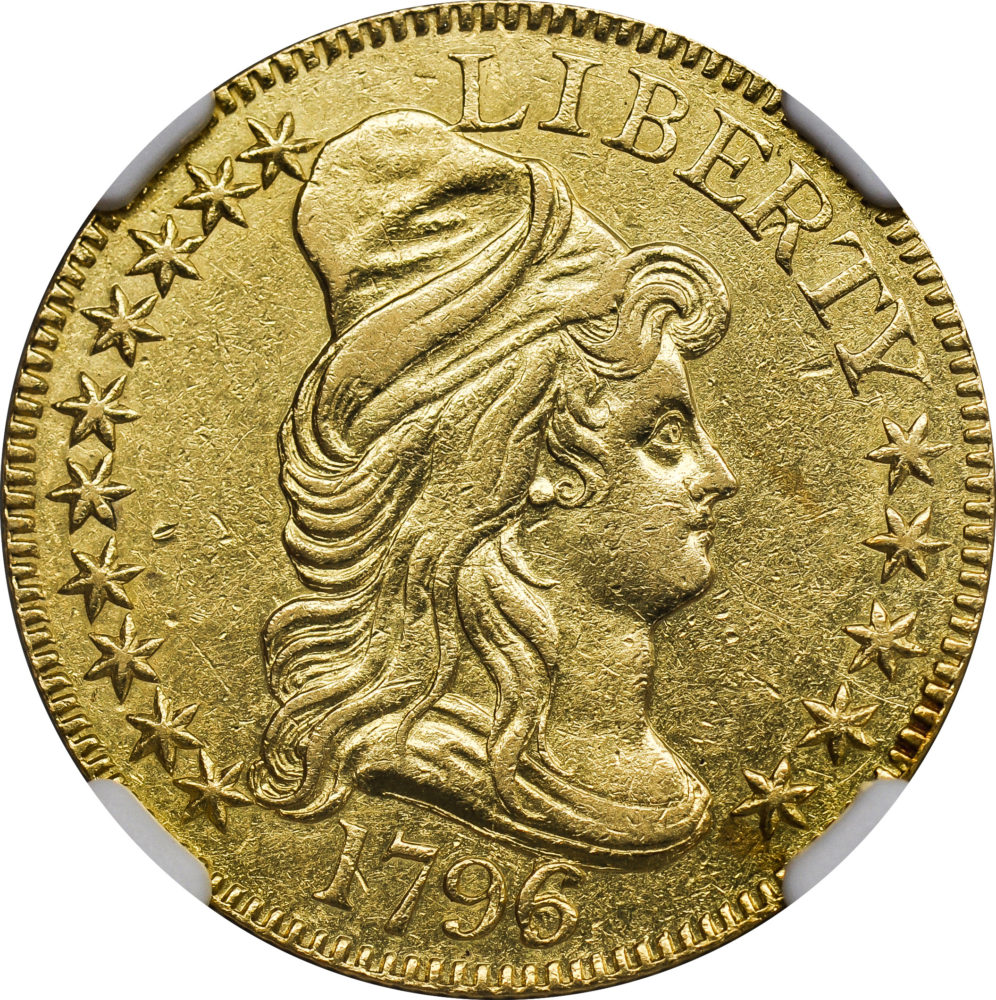 1796/5 Draped Bust $5 – $55,000
Certified by NGC as About Uncirculated 50, there are only 75 to 100 of these believed to exist today in any condition. It's an incredible example of a gold coin from the birth of our nation. Minted only the second year the United States made gold coins—these prized pieces have been preserved and passed down for generations.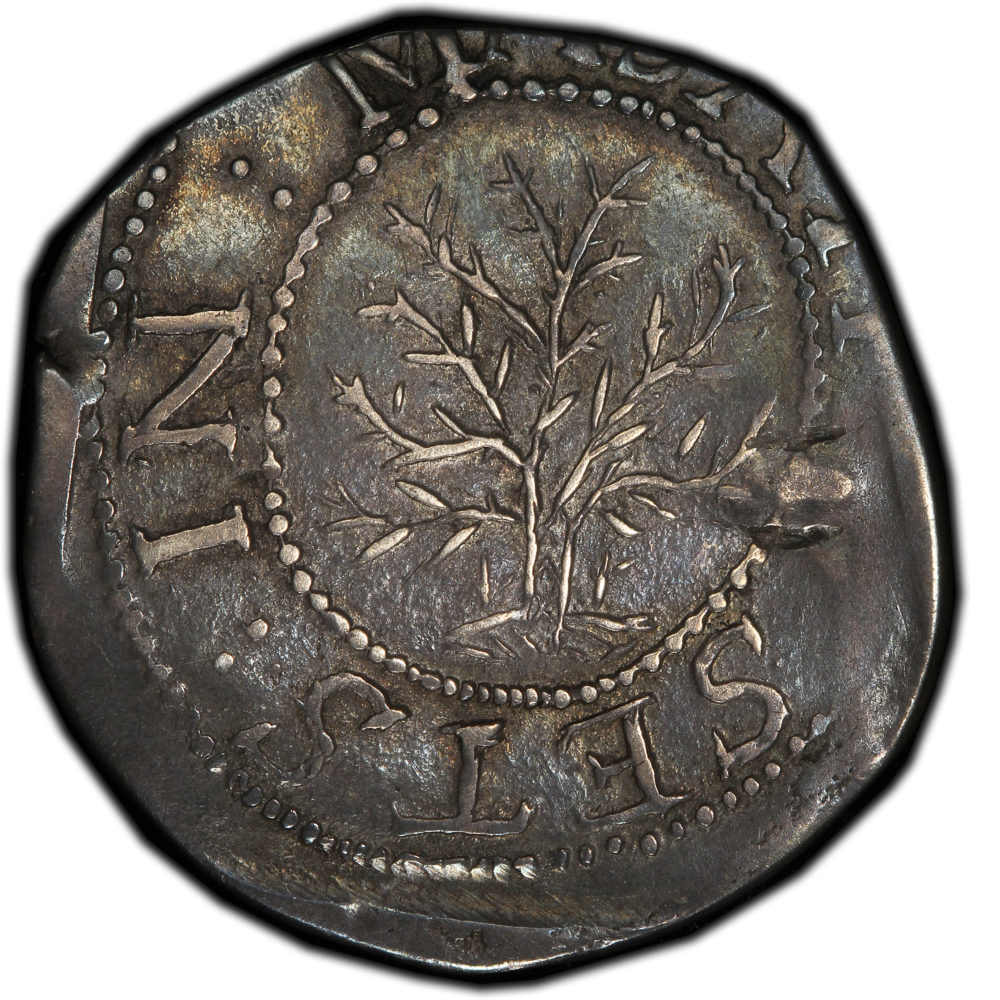 1652 Oak Tree Shilling – $14,500
Certified by PCGS as About Uncirculated 50, this Colonial-era coin offers a spectacular opportunity for collectors to experience and hold the beginnings of American Coinage History. The Massachusetts Bay Colony struck these coins in early defiance of the British crown due to necessity of coinage in the New World.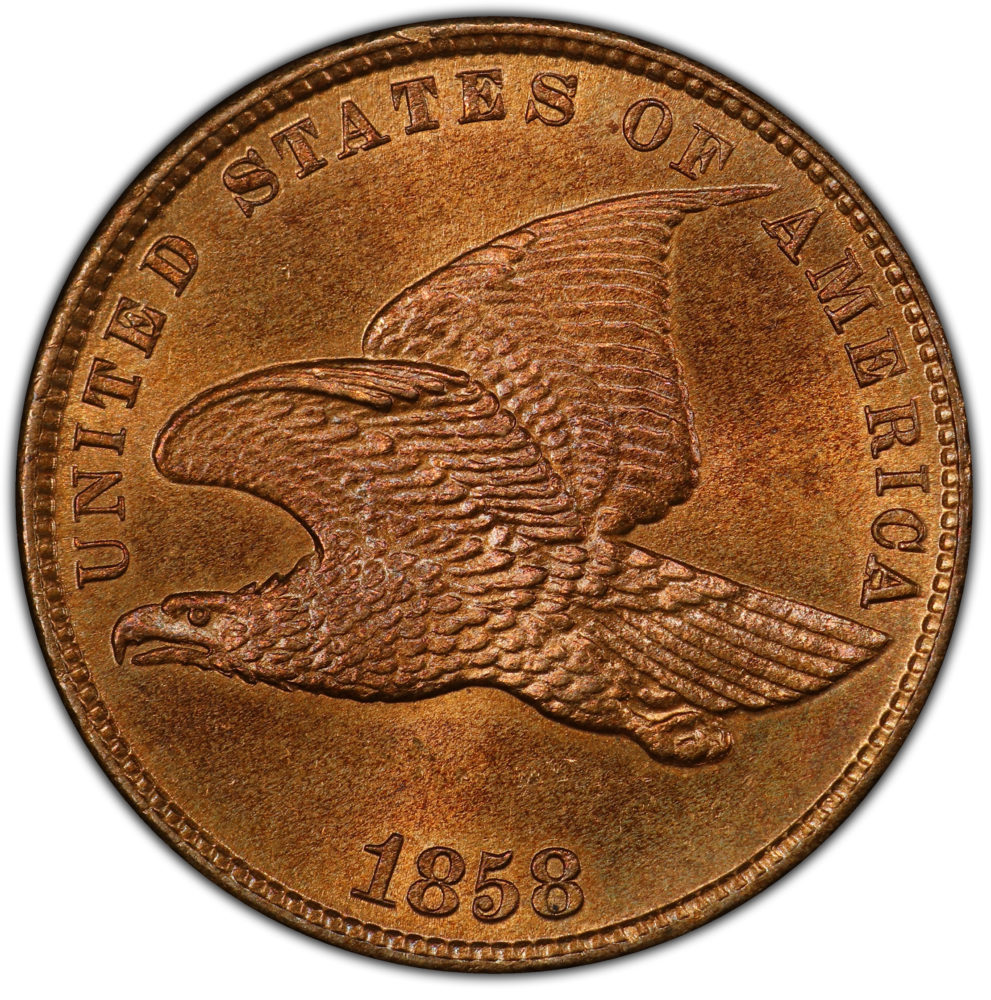 1858 Flying Eagle 1c – $9,750
Certified by PCGS as Mint State 66, there are only six coins certified in higher condition. This majestic piece is among the finest to survive example of the Flying Eagle 1c which were only made from 1856-1858 and was the first small cent design in the United States.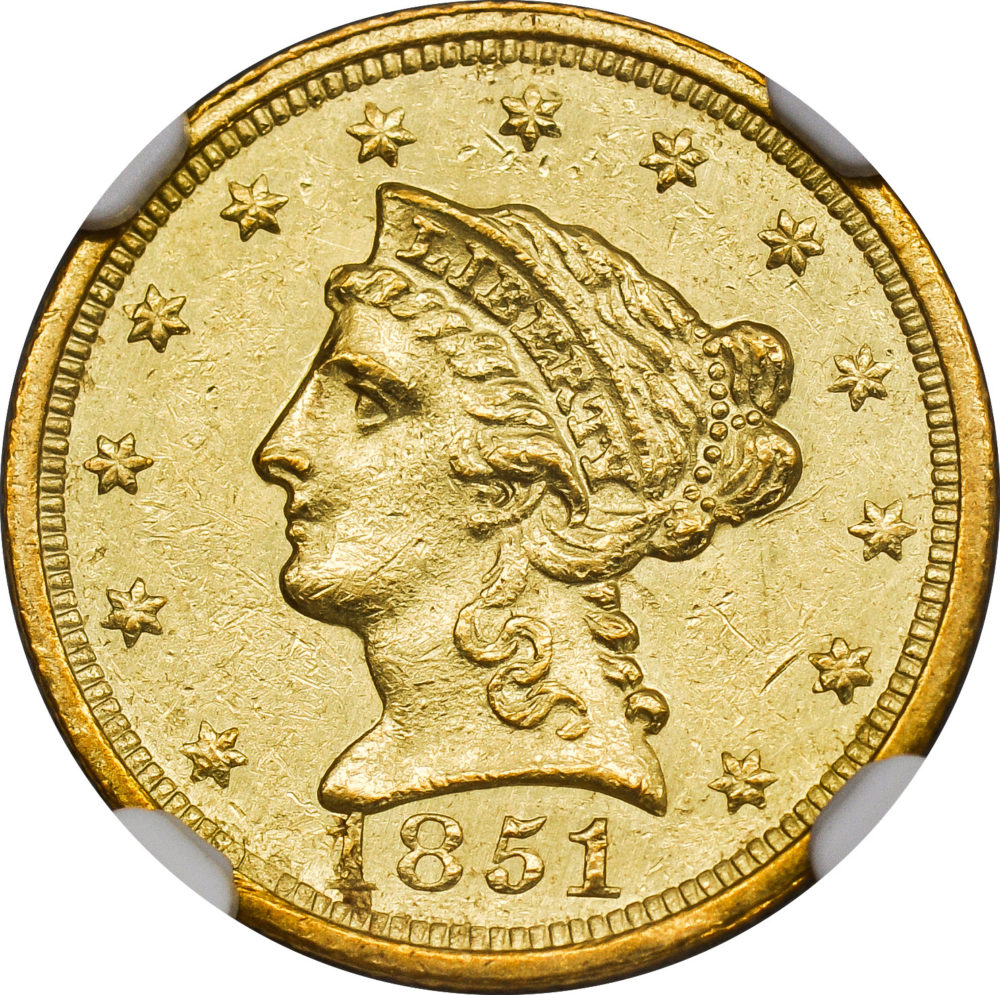 1851-C Liberty HEAD $2.5 – $8,950
Certified by NGC as Mint State 61, there are only six coins certified higher by the organization. This coin boasts a beautiful luster and exemplifies a $2.5 gold coin well-struck in Charlotte, North Carolina in 1851. The Charlotte mint was established out of necessity from the United States first documented discovery of gold in the nation.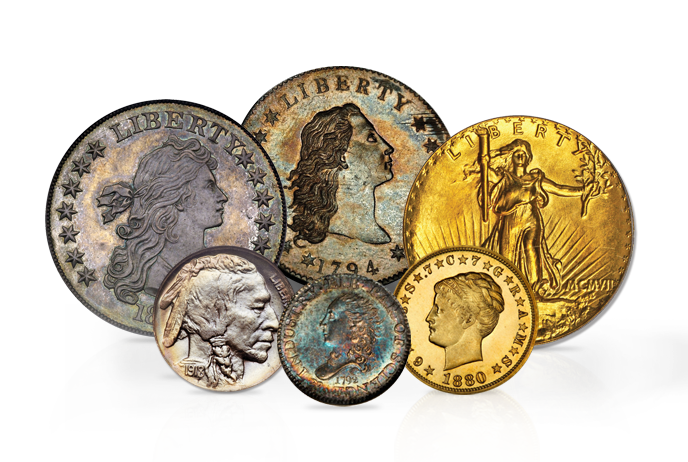 "As goes without saying, whether for gifting purposes or for personal gain, it is imperative to work with a reputable dealer to best assure a rare coin purchase is made for the right items at a fair price," according to Contursi, whose family has been among the most prominent investors in U.S. rare coins for almost half a Century. "Incidentally, there are only a handful of dealers in America who are able to purchase the finest known coins and supply the rest of the market. Such upper-echelon dealers pass that value to investors who can avoid paying a premium to middleman, or worse yet purchase coins that are not recommended holdings. In this realm, transacting in partnership with a well-suited dealer is worth its weight in gold."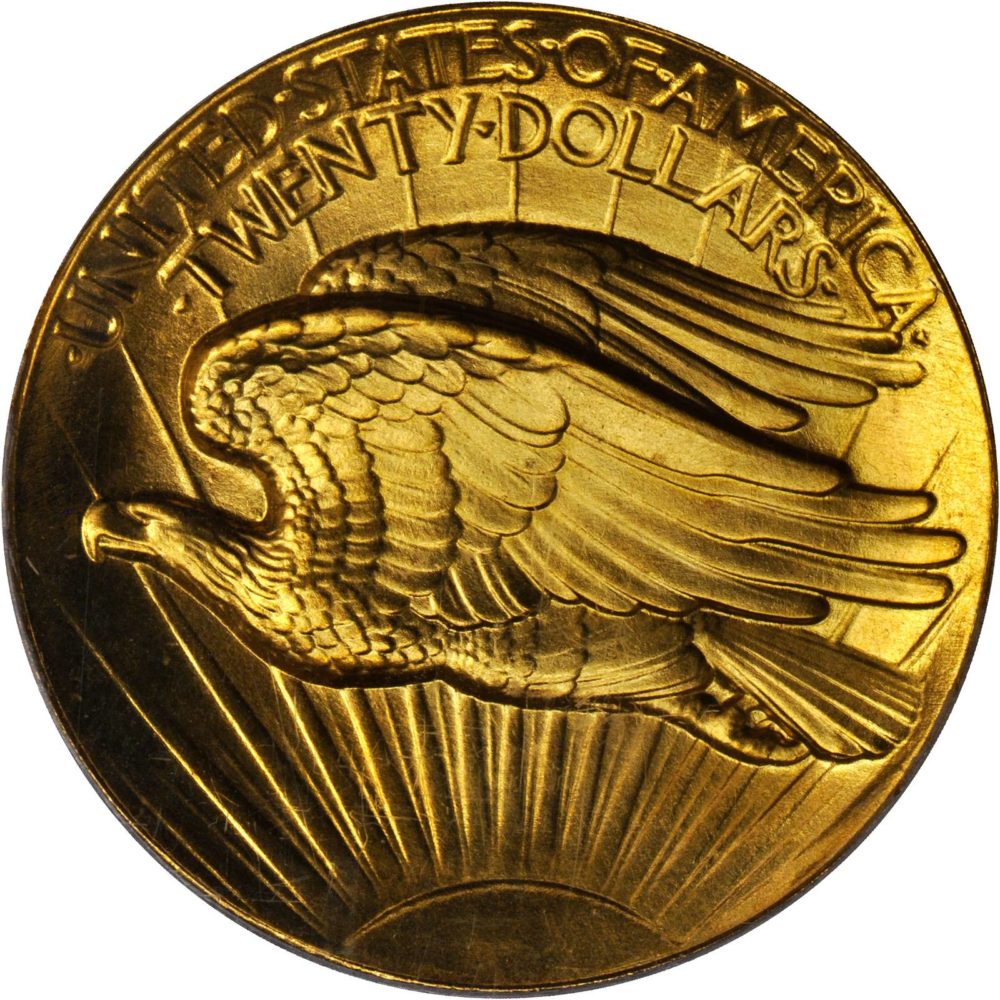 Rare U.S. coins are a gift that would surely be treasured for years—and perhaps generations—to come. They offer an exciting way to possess popular historical artifacts that very few people can ever obtain while also diversifying investment allocations.  Indeed, these "trophy assets" can provide many personal and financial benefits to those fortunate enough to be stewards of these unique pieces of American history.
~~~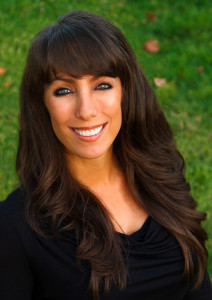 Impact Wealth Features Editor and Forbes Business Council Member Merilee Kern, MBA is an internationally-regarded brand analyst, strategist and futurist. As a prolific branding and marketplace trends pundit, Merilee reports on titans of industry: change makers, movers, shakers and innovators across all categories, both B2C and B2B. Merilee's cross-media platform work reaches an audience in the multiple millions each month through an array of broadcast TV programs, print and online publications as well as terrestrial radio. Connect with her at www.TheLuxeList.com and www.SavvyLiving.tv / Instagram www.Instagram.com/LuxeListReports  / Twitter www.Twitter.com/LuxeListReports / Facebook www.Facebook.com/LuxeListReports / LinkedIN www.LinkedIn.com/in/MerileeKern.

Sources:
https://www.financialpoise.com/investing-in-coins/
https://www.ngccoin.com/news/article/8523/
http://www.coinnewstoday.com/index.php?option=com_content&view=article&id=118:collecting-with-the-stars&catid=34&Itemid=71
https://mhojhosresearch.com/2020/05/06/coin-collecting-market-analysis-global-and-europe/
https://www.usmint.gov/learn/coin-and-medal-programs/50-state-quarters
https://americanhistory.si.edu/national-numismatic-collection
https://content.knightfrank.com/content/pdfs/global/the-wealth-report-2020.pdf
https://en.wikipedia.org/wiki/Stella_(United_States_coin)
https://www2.deloitte.com/content/dam/Deloitte/global/Documents/Public-Sector/gx-gps-successful-management-of-economic-recovery.pdf
All photos courtesy/copyright Rare Coin Wholesalers except the following, which are courtesy/copyright www.pcgs.com: Oak Tree Shilling, 1858 Flying Eagle, 1865 Indian Princess